A roasting pan is a large, heavy pan used to roast anything from meats and poultry to animal bones and vegetables. They are sometimes used in conjunction with a rack to keep the meats away from the dripping fat and accumulated juices. Using the rack keeps the item being roasted from either getting to wet or soggy, and develops better browning all over.
They are in most cases rectangular in shape. Roasting pans with shallow sides give maximum exposure to the oven heat. Those with higher sides are used to roast items that will release excess water, or can bake items in a liquid.

Types of Roasting Pans
Non stick: easy cleaning.
Copper lined with stainless steel: copper offers great heat conduction while the stainless steel provides a good cook surface.
Aluminum: another good choice for heat conduction, and more affordable than other types.
Stainless steel: long-lasting, and easy maintenance.
Layered metals: typically the bottom is layered with aluminum sandwiched between stainless steel, offering good conduction and can be used with all heat sources.
Roasting pans from our favorite affiliates: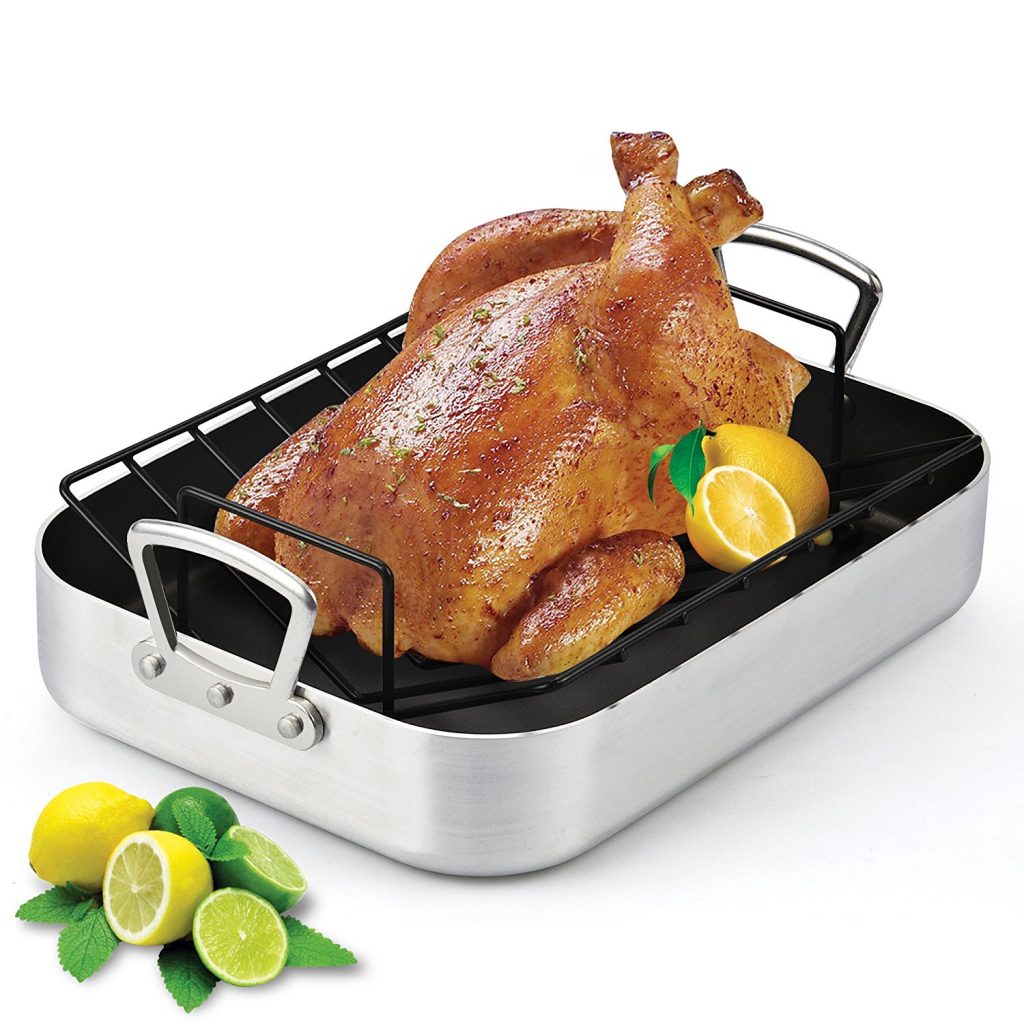 Item: Aluminum non-stick roasting pan with rack (Amazon)
Maker: Cook N Home
Why we like it: Non-stick coating, aluminum body which has great conduction. Hand wash, but easy clean up with the non-stick coating. Come with a rack, and large enough to hold just about anything. Works on all cook surfaces. Comes with a rack, too.
Item: Stainless steel roasting pan with rack (Sur la Table)
Maker: All-Clad
Why we like it: Stainless steel surface which won't alter flavors like plain aluminum can. Heavy duty 18/10 stainless steel will last a lifetime. Since it is stainless steel, it is dishwasher safe.